Land policy in Africa: Central Africa regional assessment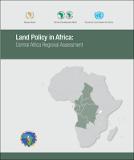 Published
2012-08
Author(s)/Corporate Author (s)
United Nations. Economic Commission for Africa;

Abstract
The initiative on land policies, aims to assist African states to equip themselves with land policies that can contribute to economic development and poverty reduction as well as peace building. One of the pressing objectives of the initiative is to draft a reference framework and guidelines for land policies in Africa. The land policy framework and guidelines are not meant to impose a uniform land policy on African states, but, on the contrary, to help them develop and implement national land policies that are efficient and effective. The framework and guidelines will be complemented by the drafting of benchmarks and land indicators, with a view to enabling the states assess the progress made in the implementation of their land policies and regulations. This report is part of the third step of the road-map. It constitutes a background document on the central Africa region. It aims at documenting land-related peculiarities, initiatives and lessons in Central Africa.
Citation
"United Nations. Economic Commission for Africa (2012-08). Land policy in Africa: Central Africa regional assessment. Addis Ababa:. © UN. ECA,. "
Related items
Showing items related by title, author, creator and subject.