Caring for social transformation: the public and private costs of caring for under-nourished children in Africa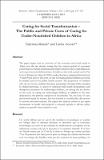 Published
2015
Author(s)/Corporate Author (s)
Manuh, Takyiwaa;
Acosta, Carlos;
United Nations. Economic Commission for Africa;

Abstract
The paper begins with an overview of the economic and social trends in Africa over the last decade, noting that the current period of economic growth has not yielded commensurate improvements in key social indicators, such as poverty and child nutrition. It builds on the work carried out by The Cost of Hunger in Africa (COHA) studies that have estimated that between 70 and 90 per cent of the costs of care for malnourished children are borne by families and not by public health systems. The proportion of children who do not receive medical attention, particularly through births attended by skilled personnel, or access to maternal child health programmes, and therapeutic treatment for underweight children, are among the key drivers of the costs of caring for underweight children, in addition to the time dedicated by the primary caregivers in households. Yet, the issue of care, performed mainly by women, has not featured in overall policy discussions of actions and interventions. The paper also analyses trends in per capita investments in health and proposes a research agenda to inform policy makers on specific issues related to care.
Citation
"Manuh, Takyiwaa; Acosta, Carlos; United Nations. Economic Commission for Africa (2015). Caring for social transformation: the public and private costs of caring for under-nourished children in Africa. Journal of African Transformation (Reflections on Policy and Practice Volume). Volume 1, No. 1, 119-133 p.. Dakar :. © CODESRIA & ECA,. https://hdl.handle.net/10855/23258"
Serial Title
Journal of African Transformation (Reflections on Policy and Practice Volume)
Related items
Showing items related by title, author, creator and subject.