ClimDev-Africa financial report: (with emphasis on ACPC and CCDU)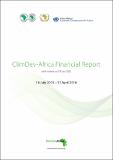 Published
2016-04
Author(s)/Corporate Author (s)
United Nations. Economic Commission for Africa;

Abstract
This financial performance report, provides a narrative outlining the financial results achieved by ClimDev-Africa partners based on funds from the European Union and Norway - i.e. the Africa Climate Policy Center (ACPC) and the Climate Change and Desertification Unit (CCDU) - between 16 July 2015 and 11 April 2016. The report, which includes income and expenditure tables and financial information on the European Union and the Norwegian funds, should be read in conjunction with the narrative report which outlined the main objectives and implemented activities during the period. The date of all financial data presented in this report is 11 April 2016.
Citation
"United Nations. Economic Commission for Africa (2016-04). ClimDev-Africa financial report: (with emphasis on ACPC and CCDU). Addis Ababa:. © UN. ECA,. "
Related items
Showing items related by title, author, creator and subject.