Guidelines on managing and delivering advisory services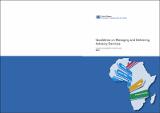 Published
2015
Author(s)/Corporate Author (s)
United Nations. Economic Commission for Africa;

Abstract
Advisory service delivery is an important element of the mandate of ECA. It contributes to strengthening capacity development in national institutions and regional organizations. Africa is directing its development efforts towards key priorities, such as structural transformation, regional integration and industrialization, which focus on integrating African economies into global value chains, and effective national resource management. Deficits in human and institutional capacity are major obstacles to addressing Africa's development priorities. Human capacity constraints are responsible for the continent's inability to implement comprehensive development policies and programmes. Likewise, institutional capacity constraints such as limited administrative capabilities and the scarcity of resources are a challenge to the implementation of complex policies. In addition to capable technical staff and institutions, leadership and good governance are key ingredients for the achievement of growth and development objectives. This manual has been developed, therefore, to provide orientation and guidance for the delivery of advisory services and technical assistance to member States, intergovernmental organizations and regional economic communities.
Citation
"United Nations. Economic Commission for Africa (2015). Guidelines on managing and delivering advisory services. Addis Ababa. © UN. ECA. "
Related items
Showing items related by title, author, creator and subject.
Rapport du séminaire régional sur l'énergie solaire en Afrique

Nations Unies. Commission Economique pour l'Afrique; Nations Unies. Conseil Economique et Social

"Nations Unies. Commission Economique pour l'Afrique; Nations Unies. Conseil Economique et Social (1979-02). Rapport du séminaire régional sur l'énergie solaire en Afrique. NU. CEA Séminaire régional sur l'énergie solaire (1979, jan. 8-13 : Niamey, République du Niger). Addis Ababa :. © UN. ECA,. http://hdl.handle.net/10855/13970"