Growth and poverty reduction in Uganda 1999-2000 : panel data evidence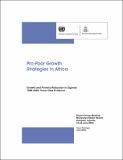 Published
2003-06
Author(s)/Corporate Author (s)
Deininger, Klaus;
Okidi, Jhon;
United Nations. Economic Commission for Africa;
Economic Policy Research Center;

Abstract
This article addresses the issue by exploring determinants of economic growth and poverty reduction for Uganda, using data from a panel of about 1200 households that span the 1992-2000 period. Uganda shares many of the structural factors generally quoted as responsible for low growth in an African context. For example, it is ethnically diverse, subject to tropical diseases such as malaria, has no direct access to the ocean, and has had to cope with a large onslaught of AIDS since the late 1980s. These obstacles notwithstanding, it has managed, over the past decade, to achieve some of the highest growth rates in Africa. Analysis of the factors underlying this performance can help to better understand growth and poverty reduction in an African context, producing policy-relevant insights that go beyond what is known from the cross-country literature. By providing a better understanding of the character and magnitude of the challenges ahead, it can also help formulate policies that might address these challenges.
Citation
"Deininger, Klaus; Okidi, Jhon; United Nations. Economic Commission for Africa; Economic Policy Research Center (2003-06). Growth and poverty reduction in Uganda 1999-2000 : panel data evidence. UN. ECA Expert Group Meeting ( 2003, June 23-24 : Kampala, Uganda). Addis Ababa :. © UN. ECA,. http://hdl.handle.net/10855/2319"
Conference
UN. ECA Expert Group Meeting ( 2003, June 23-24 : Kampala, Uganda)
Related items
Showing items related by title, author, creator and subject.
Draft introduction to the medium term plan beginning 1992

United Nations. Economic and Social Council; United Nations. Economic Commission for Africa

"United Nations. Economic and Social Council; United Nations. Economic Commission for Africa (1989-08). Draft introduction to the medium term plan beginning 1992. UN. ECA Ad Hoc Committee on the Draft Medium-Term Plan, 1992-1997 Meeting. (1989: Oct. 9 - 11 : Addis Ababa, Ethiopia). Addis Ababa. © UN. ECA. http://hdl.handle.net/10855/20747"