Progress report on the implementation of the recommendations of the high-level panel on illicit financial flows from Africa and the special declaration of the AU assembly on illicit financial flows from Africa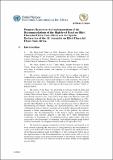 Published
2016
Author(s)/Corporate Author (s)
United Nations. Economic Commission for Africa;

Abstract
The High-level Panel on Illicit Financial Flows from Africa was established in February 2012 following Resolution 896(XLIV) of the fifth Joint Annual Meetings of the Economic Commission for Africa Conference of African Ministers of Finance, Planning and Economic Development and the African Union Conference of Ministers of Economy and Finance. The Panel is submitting the present Progress Report to outline the activities undertaken to disseminate its Findings and foster coherent and coordinated implementation of the Recommendations. African Heads of State and Government endorsed the Report and issued a special Declaration on IFFs . Among others, the Declaration called for the continued engagement of the Chair and the other Members of the Panel to carry out advocacy work by effectively disseminating the Panel's Findings and recommendations, thus to increase collaboration between African countries and their global partners and ultimately promote a better understanding of the scale of the problem for African Economies.
Citation
"United Nations. Economic Commission for Africa (2016). Progress report on the implementation of the recommendations of the high-level panel on illicit financial flows from Africa and the special declaration of the AU assembly on illicit financial flows from Africa. Addis Ababa. © UN. ECA. "
Related items
Showing items related by title, author, creator and subject.