Final report : workshop on the identification of needs of African Group of Negotiators on climate change (AGN)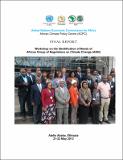 Published
2013-05
Author(s)/Corporate Author (s)
United Nations. Economic Commission for Africa;

Abstract
A Workshop on the Identification of Needs of African Group of Negotiators on Climate Change (AGN) convened in Addis Ababa, Ethiopia from 21-23 May, 2013. Participants identified research, climate negotiations and communication as three key areas in which they will continue to seek support from the African Climate Policy Center (ACPC)in particular and ClimDev-Africa in general for the coming years. The workshop laid a foundation for cooperation between the AGN and the ACPC and energized African climate change negotiators to put more scientific content in their participation in the ongoing round of climate negotiations.
Citation
"United Nations. Economic Commission for Africa (2013-05). Final report : workshop on the identification of needs of African Group of Negotiators on climate change (AGN). Addis Ababa. © UN. ECA. "
Related items
Showing items related by title, author, creator and subject.