Household and community experiences and perceptions of climate change impacts due to droughts in the Sahel region of Burkina Faso: final research report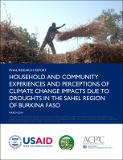 Published
2014-03
Author(s)/Corporate Author (s)
United Nations. Economic Commission for Africa;

Abstract
The aim of this study is to identify key practices used by smallholder farmers in response to the impact of recurrent droughts in the Sahelian region of Burkina Faso and to understand the factors determining farmers' adaptive choices. The study was carried out in the northern part of Burkina Faso located in the Sahel zone. The Sahel region of Burkina Faso was chosen for this study because of the zone's limited rainfall and frequency of drought. The targeted study populations of this study were smallholder farmers, including crop producers and aggro-pastoralists, and pastoralist communities of the selected villages whose livelihoods predominantly depended on rainfall.
Citation
"United Nations. Economic Commission for Africa (2014-03). Household and community experiences and perceptions of climate change impacts due to droughts in the Sahel region of Burkina Faso: final research report. Addis Ababa. © UN. ECA. "
Related items
Showing items related by title, author, creator and subject.