Devindex Africa 1989 : 3rd quarterly issue=3ème numéro trimestriel
3eme numero trimestriel 1989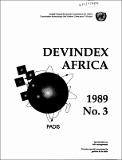 Published
1990
Author(s)/Corporate Author (s)
United Nations. Economic Commission for Africa;
Nations Unies. Commission Economique pour l'Afrique;

Abstract
This document of DEVlNDEX-AFRICA (l989,No.3) is a bibliographic index on debt management. It Is Intended to provide a sample of some of the resources available at the United Nations Economic Commission for Africa In the data bases accessible through the Pan African Development information System (PADIS). Most of the literature reported is of an unconventional, or "fugitive" nature, not readily located through the national bibliographic indexes which concentrate on commercially published material.
Citation
"United Nations. Economic Commission for Africa; Nations Unies. Commission Economique pour l'Afrique (1990). Devindex Africa 1989 : 3rd quarterly issue=3ème numéro trimestriel; 3eme numero trimestriel 1989. Devindex Africa. No. 3, ix, 58 p.. Addis Ababa; Addis Abeba. © UN. ECA; NU. CEA. "
Serial Title
Devindex Africa
Related items
Showing items related by title, author, creator and subject.
Africain statistical newsletter 2017

United Nations. Economic Commission for Africa

"United Nations. Economic Commission for Africa (2017-10). Africain statistical newsletter 2017. Africain statistical newsletter. Vol.9, No.2, 21 p.. UN.ECA SDMX Global Conference 6th: 2017, Oct. 2-5 Addis Ababa, Ethiopia).. Addis Ababa. © UN. ECA. "