Vulnerability to climate change in Africa challenges and recommendations for Africa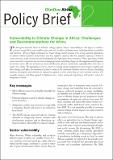 Published
2013
Author(s)/Corporate Author (s)
United Nations. Economic Commission for Africa;

Abstract
Africa is highly vulnerable to climate change mainly because of its strong economic dependency on climate-related activities and products and low adaptive capacity.This low adaptive capacity is linked to weak economies, weak institutions and inadequately developed governance structures. Water, agriculture, health sectors and entire ecosystems, are sensitive to changing climate, including changes in the magnitude and frequency of extreme events.The rise of sea level will threaten African coastal cities, especially those cities close to major river deltas.The agricultural sector is sensitive to rising surface temperatures and varying rainfall, and these changes will affect the attainment of food security on the continent.
Citation
"United Nations. Economic Commission for Africa (2013). Vulnerability to climate change in Africa challenges and recommendations for Africa. ClimDev Africa(Policy brief). No. 2, 3 p.. Addis Ababa. © UN. ECA. "
Serial Title
ClimDev Africa(Policy brief)
Related items
Showing items related by title, author, creator and subject.
Back to office report to participate in the meeting of the COMESA Committee on Industry

United Nations. Economic Commission for Africa. Subregional Office for West Africa; United Nations. Economic Commission for Africa. Subregional Office for Southern Africa; United Nations. Economic Commission for Africa.

"Dhliwayo, M. E.; United Nations. Economic Commission for Africa. Subregional Office for West Africa; United Nations. Economic Commission for Africa. Subregional Office for Southern Africa; United Nations. Economic Commission for Africa. (1998). Back to office report to participate in the meeting of the COMESA Committee on Industry. Addis Ababa :. © UN. ECA,. http://hdl.handle.net/10855/40771"

The new world trade arrangements with special focus on post-lome period : implications for Southern Africa

Common Market for Eastern and Southern Africa; United Nations. Economic Commission for Africa; United Nations. Economic Commission for Africa. Southern Africa SubRegional Development Centre (ECA/SA-SRDC)

"Common Market for Eastern and Southern Africa; United Nations. Economic Commission for Africa; United Nations. Economic Commission for Africa. Southern Africa SubRegional Development Centre (ECA/SA-SRDC) (1998-10). The new world trade arrangements with special focus on post-lome period : implications for Southern Africa. UN. ECA Intergovernmental Committee of Experts for Southern Africa (ICE) Meeting (5th : 1998, Oct. 05-08 : Lusaka, Zambia). Addis Ababa :. © UN. ECA,. http://hdl.handle.net/10855/7708"