Country profile Egypt 2015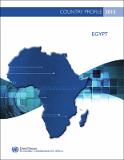 Published
2016-03
Author(s)/Corporate Author (s)
United Nations.Economic Commission for Africa.Northern Africa Subregional Development Center (SRDC-NA);

Abstract
Following a mean 7 per cent growth rate from 2005 to 2007 and over 5 per cent from 2008 to 2010, the economic growth of Egypt fell to 1.8 per cent in 2011, following the social upheavals. Political instability and structural deficiencies in the economy seriously affected growth from 2011 to 2014. The return to relative political stability and a review of the constitution in January 2014, as well as the presidential elections in June 2014, coupled with structural reforms, helped to revitalize the economy of Egypt to restore growth to pre-crisis levels. This pushed the human development index (HDI) from 0.452 to 0.621 from 1980-2000. From that date, social progress has been relatively slow. Indeed, from 2000 to 2014, the HDI only increased by 0.061. Streamlining budget expenditure, following the increase in public deficits, coincides with the need to step up the efficiency of social expenditure. It became necessary to reform the subsidy system, a costly venture for Government, which absorbs over 25 per cent of public expenditure and amounts to 13 per cent of GDP. The system reform should also affect food and energy subsidies, and in the long run, lead to price liberalization, but taking into account the plight of the most vulnerable populations. The Government is relying on the sharp fall in oil prices to cushion the effect of these reforms for the people.
Citation
"United Nations.Economic Commission for Africa.Northern Africa Subregional Development Center (SRDC-NA) (2016-03). Country profile Egypt 2015. Addis Ababa:. © UN. ECA,. "
Related items
Showing items related by title, author, creator and subject.
Objectifs stratégiques pour le développement socio-économique de l'Afrique dans les années 90

Nations Unies. Commission Economique pour l'Afrique; Nations Unies. Conseil Economique et Social

"Nations Unies. Commission Economique pour l'Afrique; Nations Unies. Conseil Economique et Social (1993-02). Objectifs stratégiques pour le développement socio-économique de l'Afrique dans les années 90. NU. CEA Réunion du Comité Technique Préparatoire Plénier (14ème : 1993, avr. 26 - 30 Addis Abeba, Ethiopie).; NU. CEA Conférence des ministres (19ème : 1993, mai 03 - 06 : Addis Abeba, Ethiopie).; NU. CEA Réunion de la conférence des ministres (20ème session de la commission : 1993, mai 03 - 06 : Addis Abeba, Ethiopie). Addis Abeba :. © NU. CEA,. http://hdl.handle.net/10855/6254"

Informality and inequality in Africa: exploring the linkages

United Nations. Economic and Social Council; United Nations. Economic Commission for Africa

"United Nations. Economic and Social Council; United Nations. Economic Commission for Africa (2017-09). Informality and inequality in Africa: exploring the linkages. UN. ECA Committee on Gender and Social Development(2nd session:2017, Oct. 11 - 12: Addis Ababa, Ethiopia). Addis Ababa. © UN. ECA. "