Making Agenda 2063 work for African women: what needs to be done?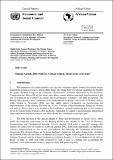 Published
2015-03
Author(s)/Corporate Author (s)
United Nations. Economic Commission for Africa;

Abstract
This document focuses on the making agenda 2063 work for African women at Conference of African Ministers of Finance, Planning and Economic Development Forty-eighth session. Towards a transformational change for women and girls in Africa, which was adopted at the Conference, strongly emphasize that as the continent strives to transform the structures of its economy, responding to women's socioeconomic and political rights and harnessing their potential and talent should be considered as a priority goal.
Citation
"United Nations. Economic Commission for Africa (2015-03). Making Agenda 2063 work for African women: what needs to be done?. UN. ECA Conference of African Ministers of Finance, Planning and Economic Development (48th : 2015, Mar. 25-31 : Addis Ababa, Ethiopia); AU Specialized Technical Committee on Finance, Monetary Affairs, Economic Planning and Integration(1st session: 2015, Mar. 25-27 : Addis Ababa, Ethiopia); UN. ECA Joint Annual Meetings of the African Union Specialized Technical Committee on Finance, Monetary Affairs, Economic Planning and Integration(8th:2015, Mar. 25-27 :Addis Ababa, Ethiopia). Addis Ababa. © UN. ECA. https://hdl.handle.net/10855/22738"
Conference
UN. ECA Conference of African Ministers of Finance, Planning and Economic Development (48th : 2015, Mar. 25-31 : Addis Ababa, Ethiopia)
AU Specialized Technical Committee on Finance, Monetary Affairs, Economic Planning and Integration(1st session: 2015, Mar. 25-27 : Addis Ababa, Ethiopia)
UN. ECA Joint Annual Meetings of the African Union Specialized Technical Committee on Finance, Monetary Affairs, Economic Planning and Integration(8th:2015, Mar. 25-27 :Addis Ababa, Ethiopia)