Workshop on science and technology policy dialogue processin Africa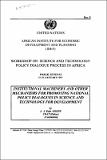 Published
1997-01
Author(s)/Corporate Author (s)
Asiedu J.J.Kojo, J.J.Kojo Asiedu;
United Nations. Economic Commission for Africa. African Institute for Economic Development and Planning(IDEP);

Abstract
This document is focuses on Effective institutional chicaneries and mechanisms are required to promote national policy dialogue in S&T for development _. a process of decision making whereby stakeholders in the development process enter into partnership and participate in the consensus building on matters regarding S&T for development.
Citation
"Asiedu J.J.Kojo, J.J.Kojo Asiedu; United Nations. Economic Commission for Africa. African Institute for Economic Development and Planning(IDEP) (1997-01). Workshop on science and technology policy dialogue processin Africa. Dakar. © UN IDEP. https://hdl.handle.net/10855/22645"
Serial Title
Doc 8
Related items
Showing items related by title, author, creator and subject.