Duarte:focus on Institutions for Development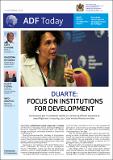 Published
2014-10
Author(s)/Corporate Author (s)
United Nations. Economic Commission for Africa;

Abstract
The wide spread of the estimated cost of illicit financial flows is an illustration of just how difficult it is to track and identify where money escapes, but even at its lower bound, the number is the same order of magnitude as the foreign aid that flows into the continent. Slowing, stopping and reversing these illegal flows requires convincing and coordinating a complex mix of international, local and private sector actors whose interests are not always aligned. The structure of many African economies, where natural resources are extracted and shipped out with minimal processing, lends itself well to systemic abuse Capital that leaves the continent illegally tends to end up in the international financial system, usually in banking centres known for their secrecy. There has been, however, a recent shift towards pressuring these havens to open up to scrutiny. The G8, G20 and Organisation of Economic Cooperation and Development have all made commitments to try to reduce the impact of illicit financial flows and tax evasion.
Citation
"United Nations. Economic Commission for Africa (2014-10). Duarte:focus on Institutions for Development. UN. ECA African Development Forum(9th :2014, Oct. 12 - 16 :Marrakech, Morocco). Paris :. © IC Publications,. https://hdl.handle.net/10855/22537"
Serial Title
ADF Today
Conference
UN. ECA African Development Forum(9th :2014, Oct. 12 - 16 :Marrakech, Morocco)
Related items
Showing items related by title, author, creator and subject.
Report of the committee of experts of the fourth joint annual meetings of the au conference of ministers of economy and finance and ECA conference of African ministers of finance, planning and economic development

United Nations. Economic Commission for Africa

"United Nations. Economic Commission for Africa (2011-03). Report of the committee of experts of the fourth joint annual meetings of the au conference of ministers of economy and finance and ECA conference of African ministers of finance, planning and economic development. UN. ECA Joint Annual Meetings of the AU Conference of Ministers of Economy and Finance and ECA Conference of African Ministers of Finance, Planning and Economic Development(4th: 2011, Mar. 28-29: Addis Ababa, Ethiopia); UN. ECA Session of the Commission(44th session :2011, Mar. 28-29:Addis Ababa, Ethiopia); UN.ECA Session of CAMEF(6th session:2011 , Mar. 28-29:Addis Ababa,Ethiopia). Addis Ababa :. © UN. ECA,. https://hdl.handle.net/10855/22340"