Foreign trade statics of Africa=Statistiques Africaines du commerce extérieur: no. 21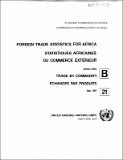 Date
1972
Author(s)/Corporate Author (s)
United Nations. Economic Commission for Africa;
Nations Unies. Commission Economique pour l'Afrique;

Résumé
This document focuses on foreign trade statistics for Africa series B. Series B, ((Trade by Commodity", is a companion of Series A. Direction of Trade, and provides cumulative half yearly data on African commodity trade according to the If Standard International Trade Classification (SITC), Revised by region and by countries of provenance and destination in thousand US dollars. Imports and exports are analyzed by section, groups or sub-groups.
Citation
"United Nations. Economic Commission for Africa; Nations Unies. Commission Economique pour l'Afrique (1972). Foreign trade statics of Africa=Statistiques Africaines du commerce extérieur: no. 21. Addis Ababa :. © UN. ECA,. https://hdl.handle.net/10855/22480"
Serial Title
Trade by Commodity =Echanges par produit:no.21
Related items
Showing items related by title, author, creator and subject.