Women, planning and policy in Malawi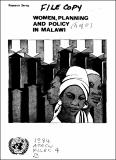 Published
1984
Author(s)/Corporate Author (s)
Hirschmann, David;
United Nations. Economic Commission for Africa;

Abstract
This document focuses on the study of women, planning and policy in Malawi. This study describes some features basic to an understanding of Malawi's economy and more specifically of the role of women in society, looks at the participation of women in planning and policy making, focuses on plans and policies relating to women and provides a list of recommendations.
Citation
"Hirschmann, David; United Nations. Economic Commission for Africa (1984). Women, planning and policy in Malawi. Addis Ababa :. © UN. ECA,. https://hdl.handle.net/10855/22331"
Serial Title
Research series / African Training and Research Centre for Women
Related items
Showing items related by title, author, creator and subject.
African Universities, the Private Sector, and Civil Society: Keynote address by Dr. K. Y. Amoako, UN under-secretary-general and executive secretary of ECA

United Nations. Economic Commission for Africa.

"Amoako, K.Y.; United Nations. Economic Commission for Africa. (1999-06). African Universities, the Private Sector, and Civil Society: Keynote address by Dr. K. Y. Amoako, UN under-secretary-general and executive secretary of ECA. UN. ECA International Association of University Presidents Africa Regional Council Conference (1999, Jun. 6: Accra, Ghana). Addis Ababa:. © UN. ECA,. https://hdl.handle.net/10855/31450"

Pouvoir social: capacités des femmes en Afrique

Nations Unies. Commission Economique pour l'Afrique. Centre africain pour le genre et le développement; Nations Unies. Commission Economique pour l'Afrique. Centre africain pour le genre et le développement

"Nations Unies. Commission Economique pour l'Afrique. Centre africain pour le genre et le développement; Nations Unies. Commission Economique pour l'Afrique. Centre africain pour le genre et le développement (2017). Pouvoir social: capacités des femmes en Afrique. Centre africain pour le genre IDISA(Note d'orientation). No. 1, 7 p.. Addis Abeba. © NU.CEA. https://hdl.handle.net/10855/23864"