Project development methods :a training manual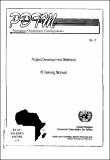 Author(s)/Corporate Author (s)
United Nations. Economic Commission for Africa;

Abstract
The objective of this manual is to assist NGOs overcome the above referred handicaps by providing them with the basic skills in project formulation and resource mobilization.The manual has a practical emphasis and is intended as a useful reference and source book.
Citation
"United Nations. Economic Commission for Africa Project development methods :a training manual. Addis Ababa :. © UN. ECA,. http://hdl.handle.net/10855/22309"
Serial Title
Participatory Development Training Manuals;no. 3
Related items
Showing items related by title, author, creator and subject.
Rapport du séminaire régional sur l'énergie solaire en Afrique

Nations Unies. Commission Economique pour l'Afrique; Nations Unies. Conseil Economique et Social

"Nations Unies. Commission Economique pour l'Afrique; Nations Unies. Conseil Economique et Social (1979-02). Rapport du séminaire régional sur l'énergie solaire en Afrique. NU. CEA Séminaire régional sur l'énergie solaire (1979, jan. 8-13 : Niamey, République du Niger). Addis Ababa :. © UN. ECA,. http://hdl.handle.net/10855/13970"