African U.S. trade in the spotlight: a decade of AGOA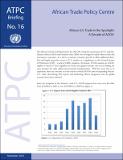 Published
2010-11
Author(s)/Corporate Author (s)
United Nations. Economic Commission for Africa;

Abstract
This document is focuses on the African trade in the spotlight a decade of AGOA. Africa's major supply side constraint is trade logistics, which determines the cost of transferring goods from the factory gate to end consumers. Infrastructural deficiencies, coupled with poor public institutions and lack of competition among service providers, hamper the efficient movement of goods.
Citation
"United Nations. Economic Commission for Africa (2010-11). African U.S. trade in the spotlight: a decade of AGOA. ATPC briefing. no. 16, 5 p. Addis Ababa :. © UN. ECA,. https://hdl.handle.net/10855/22222"
Serial Title
ATPC briefing
Related items
Showing items related by title, author, creator and subject.
Promouvoir la connectivité en Afrique: le rôle de l'Aide pour le commerce dans l'intensification des échanges intra-africains

Nations Unies. Commission Economique pour l'Afrique. Division de l'intégration régionale et du commerce. Centre africain pour les politiques commerciales; Nations Unies. Commission Economique pour l'Afrique. Division de l'intégration régionale et du commerce. Centre africain pour les politiques commerciales

"Nations Unies. Commission Economique pour l'Afrique. Division de l'intégration régionale et du commerce. Centre africain pour les politiques commerciales; Nations Unies. Commission Economique pour l'Afrique. Division de l'intégration régionale et du commerce. Centre africain pour les politiques commerciales (2017-10). Promouvoir la connectivité en Afrique: le rôle de l'Aide pour le commerce dans l'intensification des échanges intra-africains. Addis Abeba. © NU. CEA. https://hdl.handle.net/10855/24169"

Nations Unies. Commission Economique pour l'Afrique; Nations Unies. Conseil Economique et Social; Nations Unies. Commission Economique pour l'Afrique; Nations Unies. Conseil Economique et Social

"Nations Unies. Commission Economique pour l'Afrique; Nations Unies. Conseil Economique et Social; Nations Unies. Commission Economique pour l'Afrique; Nations Unies. Conseil Economique et Social (2017). https://hdl.handle.net/10855/23967"