Draft background paper High-level policy dialogue on "Capacity and institutions for industrial development: the role of the public and private sectors"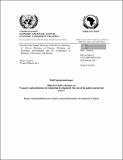 Date
2014-02
Author(s)/Corporate Author (s)
United Nations. Economic Commission for Africa;

Résumé
African countries have been unable to meet their industrialization potential as a result of poorly designed interventions, weak institutional capacities and the neglect of the critically important continuous dialogue between the public and private sectors. From this perspective, there is an obvious justification to equip Governments with the necessary capabilities to govern and shape the behaviour of economic agents and forge strategic collaboration with the private sector in the pursuit of industrialization. Likewise, there is a need to foster the development of capabilities in the private sector to ensure that it can play its role in the policy dialogue and compete and innovate.
Citation
"United Nations. Economic Commission for Africa (2014-02). Draft background paper High-level policy dialogue on "Capacity and institutions for industrial development: the role of the public and private sectors". UN. ECA (47th Session: 2014, Mar. 29-30: Abuja, Nigeria); UN. ECA Conference of African Ministers of Economy and Finance(9th Session: 2014, Mar. 29-30 : Abuja, Nigeria); UN. ECA Conference of African Ministers of Finance, Planning and Economic Development and AU Conference of Ministers of Economy and Finance(7th:2014, Mar. 29-30 :Abuja, Nigeria). Addis Ababa:. © UN. ECA,. https://hdl.handle.net/10855/22200"
Conférence
UN. ECA (47th Session: 2014, Mar. 29-30: Abuja, Nigeria)
UN. ECA Conference of African Ministers of Economy and Finance(9th Session: 2014, Mar. 29-30 : Abuja, Nigeria)
UN. ECA Conference of African Ministers of Finance, Planning and Economic Development and AU Conference of Ministers of Economy and Finance(7th:2014, Mar. 29-30 :Abuja, Nigeria)