Special report on the "the ICGLR RINR and other certification mechanisms in the great lakes region: lessons learned and best practices"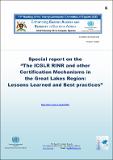 Published
2013
Author(s)/Corporate Author (s)
United Nations. Economic Commission for Africa. Subregional Office East Africa (SRO-EA);

Abstract
The Special report on the implementation of the ICGLR RINR will start by analyzing certification processes in general and their challenges; focus on the ICGLR RINR and highlight the progress made as well as achievements and success factors; flag any issues and challenges that may have arisen that prevent its implementation; and make comparative analysis with other certification mechanisms and initiatives.
Citation
"United Nations. Economic Commission for Africa. Subregional Office East Africa (SRO-EA) (2013). Special report on the "the ICGLR RINR and other certification mechanisms in the great lakes region: lessons learned and best practices". UN.ECA Meeting of the Intergovernmental Committee of Experts(17th :2013, Feb. 18-22 :Kampala, Uganda ). Addis Ababa. © UN. ECA. https://hdl.handle.net/10855/22136"
Conference
UN.ECA Meeting of the Intergovernmental Committee of Experts(17th :2013, Feb. 18-22 :Kampala, Uganda )
Collections