Comment les organizations populaires et les institutions non gouvernemetales peuvent influencer la politique à travers la recherche, la sensibilisation et la défense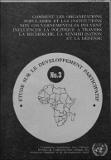 Published
1993
Author(s)/Corporate Author (s)
United Nations. Economic Commission for Africa. Public Administration, Human Resources, and Social Development Division;

Abstract
Les présents études sur le développement participatif ont pour objet de promouvoir et de faciliter l'institutionnalisation du processus participatif et de renforcer la participation des populations à la vie politique, sociale et économique de leurs pays et à la change des expériences, des idées, des concepts, des mécanismes institutionnels à des formes d'organisation du développement participatif.
Citation
"United Nations. Economic Commission for Africa. Public Administration, Human Resources, and Social Development Division (1993). Comment les organizations populaires et les institutions non gouvernemetales peuvent influencer la politique à travers la recherche, la sensibilisation et la défense. Addis Abeba :. © NU. CEA,. https://hdl.handle.net/10855/2143"
Serial Title
Etude sur le developpement participatif; no. 3
Related items
Showing items related by title, author, creator and subject.