African trade: Commerce African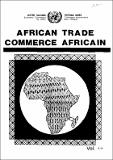 Published
1976
Author(s)/Corporate Author (s)
United Nations. Economic Commission for Africa.;
Africa Trade Centre;

Abstract
This document focused on the African trade vol.19 and this issue of the "AFRICAN TRADE" bulletin carries extracts from that study that pays homage to African Women in Domestic Trade.
Citation
"United Nations. Economic Commission for Africa.; Africa Trade Centre (1976). African trade: Commerce African. Addis Ababa :. © UNECA,. https://hdl.handle.net/10855/21186"
Serial Title
1976-
Related items
Showing items related by title, author, creator and subject.