Climate financing : global imperatives and implications for sustainable climate resilient development in Africa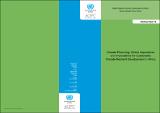 Published
2011-11
Author(s)/Corporate Author (s)
United nations Economic Commission for Africa. African Climate Policy Centre;
United Nations. Economic Commission for Africa.;

Abstract
Financial support to developing countries for mitigation, adaptation, technology development and transfer, and capacity building is critical to ensure the near universal contribution and participation required to effectively address challenges of climate change. Estimates put the required financial support in tens of billions of dollars. Mobilization of this sum is challenging by itself. But proliferation of climate funds (UNFCCC funds, multilateral and bilateral funds, and carbon markets) provides an opportunity to mobilize more resources, with a view to bridging the current financial gap. While mobilizing finance is vital for adaptation to and mitigation of climate change, it is also imperative to examine the supply and demand side factors that may constitute barriers to access. The paper outlines the major sources of international climate finance. It examines, to the extent that information is available, the level of finance that goes into supporting climate change activities in Africa. The paper provides a general assessment of existing financial mechanisms with a view to drawing lessons. Finally, it discusses questions of needs and vulnerability assessment in relation to climate change and financial support in Africa.
Citation
"United nations Economic Commission for Africa. African Climate Policy Centre; United Nations. Economic Commission for Africa. (2011-11). Climate financing : global imperatives and implications for sustainable climate resilient development in Africa. ACPC working paper;. 16, 40 p. :. Addis Ababa :. © UN. ECA,. https://hdl.handle.net/10855/21132"
Serial Title
ACPC working paper;
Related items
Showing items related by title, author, creator and subject.