An assessment of Africa's climate observing networks and data including strategies for rescuing of climatic data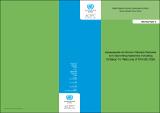 Published
2011-11
Author(s)/Corporate Author (s)
United nations Economic Commission for Africa. African Climate Policy Centre;
United Nations. Economic Commission for Africa.;

Abstract
This paper has looked on the situation of climate data and observations network in the continent. It is shown that the spatial distribution is poor with least coverage over rural areas, many stations do not operate and data from some of the operating stations is not fed into the international system. The quality of data is still poor with gaps of missing data and in some cases there are inefficient quality control systems. There have been some efforts to reduce these problems through data rescue and filling gaps using remotely observed data from satellites and other sources. Furthermore, the paper looks at some possible coordination mechanisms that could be adopted in the continent to ensure that Africa's observations network, data quality management systems and archival systems make available enough of the required climate data, from many parts, and share it widely with other stakeholders.
Citation
"United nations Economic Commission for Africa. African Climate Policy Centre; United Nations. Economic Commission for Africa. (2011-11). An assessment of Africa's climate observing networks and data including strategies for rescuing of climatic data. Addis Ababa :. © UN. ECA,. http://hdl.handle.net/10855/21110"
Serial Title
ACPC working paper; .3
Related items
Showing items related by title, author, creator and subject.