Climate science information and service in Africa : status,gaps and policy implications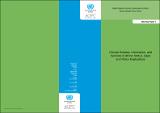 Published
2011-11
Author(s)/Corporate Author (s)
United nations Economic Commission for Africa. African Climate Policy Centre;
United Nations. Economic Commission for Africa.;

Abstract
Climate variability and change are serious challenges to sustainable development in Africa. The current famine crisis in Somalia and the surrounding region is yet another reminder of how fluctuations in the climate can destroy lives and livelihoods. Coping with negative impacts of climate and benefiting from favorable conditions would require implementing adaptation strategies that could reduce the vulnerability to current climate variability while building resilience against risks from climate change. This is best achieved through mainstreaming climate issues into development planning and practice. Climate information is a critical input for effective climate risk management. Science-informed policy, planning, and practice will ensure that development is more resilient and less vulnerable to negative impacts of climate, thus fostering sustainable development. However, the use of climate information and science in Africa has been very weak.
Citation
"United nations Economic Commission for Africa. African Climate Policy Centre; United Nations. Economic Commission for Africa. (2011-11). Climate science information and service in Africa : status,gaps and policy implications. Addis Ababa :. © UN. ECA,. https://hdl.handle.net/10855/21088"
Serial Title
ACPC working paper; V.1
Related items
Showing items related by title, author, creator and subject.