Handbook on data sources and estimation of development indicators in African countries: Millennium Development Goals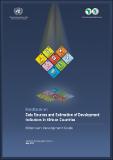 Published
2011-05
Author(s)/Corporate Author (s)
United Nations. Economic Commission for Africa. African Centre for Statistics;
African Development Bank Group;

Abstract
This Handbook was recommended by the Statistical Commission for Africa (StatCom-Africa). It complements global handbooks on Millennium Development Goal (MDG) indicators produced by the Inter-Agency Expert Group (IAEG). The added value to the handbook is that it addresses African perspectives and realities in deriving MDG indicators from censuses, surveys and administrative sources. The Handbook presents the historical origin of the MDGs, various data sources,methodologies, data quality issues, institutional framework and various challenges on MDG measurement and monitoring in the African context. The MDG indicators have been adapted from the United Nations Statistical Development (UNSD) website or from contents of the United Nations publication, "Indicators for monitoring the Millennium Development Goals, ST/ESA/STAT/SER.F/95".
Citation
"United Nations. Economic Commission for Africa. African Centre for Statistics; African Development Bank Group (2011-05). Handbook on data sources and estimation of development indicators in African countries: Millennium Development Goals. Addis Ababa:. © UN. ECA,. http://hdl.handle.net/10855/21083"
Serial Title
Statistics Working Paper Series; Vol 4
Related items
Showing items related by title, author, creator and subject.
Third African population conference: conference papers

United Nations Population Fund; Organization of African Unity; African Development Bank; Government of the Republic of Senegal; United Nations. Economic Commission for Africa African Center for Statistics

"United Nations Population Fund; Organization of African Unity; African Development Bank; Government of the Republic of Senegal; United Nations. Economic Commission for Africa African Center for Statistics (1994). Third African population conference: conference papers. Conference Papers :. vol.3, iii, 230 p.. UN. ECA African Population Conference, Meeting of Experts (3rd : 1992, Dec. 11- 12 : Dakar, Senegal). Addis Ababa :. © UN.E CA,. http://hdl.handle.net/10855/2063"