Vulnerability and climate change hotspots in Africa - mapping based on existing knowledge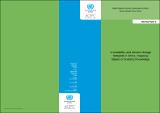 Published
2011-11
Author(s)/Corporate Author (s)
United nations Economic Commission for Africa. African Climate Policy Centre;
United Nations. Economic Commission for Africa.;

Abstract
The climate of Africa varies from humid tropical climate to hyper-arid Saharan climate. The rainfall is highly variable in space. The coefficient of variation of rainfall is mapped in this paper and it revealed that rainfall variability is large in drought prone areas of the continent. The African rainfall is dominated by inter-annual and decadal variability for the past; however, the future rainfall projections indicated a decreasing trend in rainfall along the Mediterranean coast and southern Africa and projected an increasing trend in East Africa. It is uncertain how rainfall will change over the Sahel and the southern Sahara. The frequency of extreme events will increase in the various parts of the continent and Africa is very likely to warm in 21st century.
Citation
"United nations Economic Commission for Africa. African Climate Policy Centre; United Nations. Economic Commission for Africa. (2011-11). Vulnerability and climate change hotspots in Africa - mapping based on existing knowledge. Addis Ababa :. © UN. ECA,. https://hdl.handle.net/10855/21060"
Serial Title
ACPC working paper;
Related items
Showing items related by title, author, creator and subject.