Report: training workshop for members of the Pan-African parliament, "enhancing the role and effective participation of parliamentarians in the African peer review mechanism (APRM) process"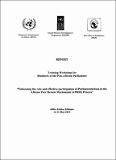 Published
2010-05
Author(s)/Corporate Author (s)
United Nations. Economic Commission for Africa. Governance and Public Administration Division;

Abstract
The reason for the holding of the series of workshops was motivated mainly by the fact that African parliamentarians from the APRM participating countries played a marginal role in the process at the national and continental levels. The two main reasons for this state of affair as underlined during the two training workshops were due to their weak institutional capacity as well as the lack of a clear definition on the role and responsibilities of parliaments and parliamentarians in the peer review mechanism as the parliamentary bodies and parliamentarians are crucial and key factors In the APRM process. It is therefore, within this context that the training workshops were organized. This training workshop will provide an opportunity not only for the exchange of views and experiences with colleagues from pilot APRM participating countnes and the newly- acceding countries but also enhance the role and effective participation of parliamentarians in the APRM process in the justification, structure, modalities of the process as well as the definition of strategies for effective participation by parliamentarians.
Citation
"United Nations. Economic Commission for Africa. Governance and Public Administration Division (2010-05). Report: training workshop for members of the Pan-African parliament, "enhancing the role and effective participation of parliamentarians in the African peer review mechanism (APRM) process". UN. ECA Training Workshop on Enhancing the Role and Effective Participation of Parliamentarians in the African Peer Review Mechanism (APRM) Process (2010, May 12-14 : Addis Ababa, Ethiopia). Addis Ababa :. © UN. ECA,. http://hdl.handle.net/10855/20292"
Conference
UN. ECA Training Workshop on Enhancing the Role and Effective Participation of Parliamentarians in the African Peer Review Mechanism (APRM) Process (2010, May 12-14 : Addis Ababa, Ethiopia)