Optimizing UN resources for the development of Africa's energy sector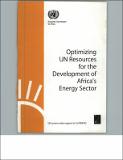 Published
2007
Author(s)/Corporate Author (s)
Moulot, Jacques;
United Nations. Economic Commission for Africa;
New Partnership for Africa's Development;

Abstract
Since no UN agency or program has the prime responsibility for energy development, and due to their crosscutting nature, several UN agencies have energy activities as part of their work programs. While all UN agencies can potentially play active roles in UN-Energy/Africa, the following are the current active members of the collaborative mechanism.
Citation
"Moulot, Jacques; United Nations. Economic Commission for Africa; New Partnership for Africa's Development (2007). Optimizing UN resources for the development of Africa's energy sector. Addis Ababa :. © UN.ECA,. https://hdl.handle.net/10855/18864"
Serial Title
UN system -wide support to AU/NEPAD; Vol 2
Related items
Showing items related by title, author, creator and subject.
Report of the thirty-sixth session of the Intergovernmental Committee of Senior Officials and Experts for North Africa

United Nations. Economic Commission for Africa; United Nations. Economic Commission for Africa. Sub regional office for North Africa; United Nations. Economic Commission for Africa; United Nations. Economic Commission for Africa. Sub regional office for North Africa

"United Nations. Economic Commission for Africa; United Nations. Economic Commission for Africa. Sub regional office for North Africa; United Nations. Economic Commission for Africa; United Nations. Economic Commission for Africa. Sub regional office for North Africa (2021-12). Report of the thirty-sixth session of the Intergovernmental Committee of Senior Officials and Experts for North Africa. UN. ECA Intergovernmental Committee of Senior Officials and Experts for North Africa (36th sessions : 2021, Nov. 24 : Addia Ababa, Ethiopia). Addis Ababa :. © UN. ECA,. https://hdl.handle.net/10855/47917"

Concept note

United Nations. Economic Commission for Africa; United Nations. Economic Commission for Africa. Subregional Office West Africa (SRO-WA); United Nations. Economic Commission for Africa; United Nations. Economic Commission for Africa. Subregional Office West Africa (SRO-WA)

"United Nations. Economic Commission for Africa; United Nations. Economic Commission for Africa. Subregional Office West Africa (SRO-WA); United Nations. Economic Commission for Africa; United Nations. Economic Commission for Africa. Subregional Office West Africa (SRO-WA) (2022-08). Concept note. UN.ECA Intergovernmental Committee of Senior Officials and Experts for North Africa (1st Joint Session: 2022, Nov. 1-3: Marrakech, Morocco); UN.ECA Intergovernmental Committee of Senior Officials and Experts for West Africa (1st Joint Session: 2022, Nov. 1-3: Marrakech, Morocco). Addis Ababa :. © UN. ECA,. https://hdl.handle.net/10855/49128"