Assessment of popular participation in the formulation and implementation of development policies and programmes : a case study of Uganda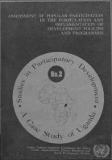 Author(s)/Corporate Author (s)
United Nations. Economic Commission for Africa. Public Administration, Human Resources, and Social Development Division;
United Nations. Economic Commission for Africa;

Abstract
This program encourages the participation in development of NGOs and GROs. Some people argue that the government was pushed into this by the donors , principally the IMF. While there is some validity in this argument, one should bear in mind that one of the NRM Ten Point Program states that:We shall follow an economic strategy of mixed economy which means allowing the majority of economic activities to be carried out by private entrepreneurs » with the state, however, taking part in selected fulcrum - like sectors that the states can use to guide the economy as a whole towards the desired goals.
Citation
"United Nations. Economic Commission for Africa. Public Administration, Human Resources, and Social Development Division; United Nations. Economic Commission for Africa Assessment of popular participation in the formulation and implementation of development policies and programmes : a case study of Uganda. Addis Ababa:. © UN. ECA,. https://hdl.handle.net/10855/1877"
Serial Title
Studies in participatory development (Economic Commission for Africa); no. 2
Related items
Showing items related by title, author, creator and subject.