Sub-regional training workshop on participatory development methods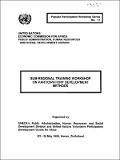 Published
1995-05
Author(s)/Corporate Author (s)
United Nations. Economic Commission for Africa. Public Administration, Human Resources, and Social Development Division;
United Nations Volunteers Participatory Development Centre for Africa;

Abstract
The concept of participatory development has an established history with grassroots community groups. The tenet of participation is to assist beneficiaries undertake their own self-help initiatives, which is viewed as a viable instrument for sustainable human development. The conference adopted the African charter for popular participation in development which formed the main thrust of operationalizing the key concepts of participatory development in the African context. Following this conference, UN-ECA initiated a series of activities to follow up and translate the charter's recommendations into practical activities, particularly at the national level. Its focus has been enhancing the role of African grassroots groups and NGOs to broaden the dissemination of successful participatory experiences through-out Africa and thereof create a multiplier effect and sensitize policy makers on participatory development. The theme of the workshop was to strengthen the capacity of development organizations to enhance and promote participatory development in the SADC sub region.
Citation
"United Nations. Economic Commission for Africa. Public Administration, Human Resources, and Social Development Division; United Nations Volunteers Participatory Development Centre for Africa (1995-05). Sub-regional training workshop on participatory development methods. Popular participation workshop series;. no. 17, 42 p.. Addis Ababa:. © UN. ECA,. https://hdl.handle.net/10855/1843"
Serial Title
Popular participation workshop series;
Collections
Related items
Showing items related by title, author, creator and subject.