Economic and social development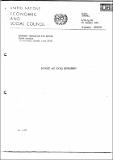 Published
1961-01
Author(s)/Corporate Author (s)
United Nations. Economic and Social Council;
United Nations. Economic Commission for Africa;

Abstract
This survey, which contains a description and classification of plans and policies in about twenty African countries and territories, confirms the observation of the experts that, with the notable exception of the plans of a few countries in North Africa, most African development plans are public capital expenditure programmes which do not contain projections, objectives or targets for the private sector. The article points out, however, that most countries have reached a stage whore it becomes more and more difficult to say in what direction an economy should be guided to achieve its fastest rate of growth or to foresee where bottlenecks may develop and that, consequently, many governments have moved towards the acceptance of a more comprehensive conception of planning and economic policy, which they are now intending to put into effect.
Citation
"United Nations. Economic and Social Council; United Nations. Economic Commission for Africa (1961-01). Economic and social development. UN. ECA (3rd session : Addis Ababa, Ethiopia). Addis Ababa :. © UN. ECA,. https://hdl.handle.net/10855/17828"
Conference
UN. ECA (3rd session : Addis Ababa, Ethiopia)
Related items
Showing items related by title, author, creator and subject.
Information society : regional dimensions Africa, Europe & North America, Latin America & Caribbean, Asia & Pacific, Western Asia.

United Nations. Economic Commission for Africa.; United Nations. Economic Commission for Latin America and the Caribbean; United Nations. Economic Commission for Latin America and the Caribbean; United Nations. Economic and Social Commission for Asia and the Pacific; United Nations. Economic and Social Commission for Western Asia

"United Nations. Economic Commission for Africa.; United Nations. Economic Commission for Latin America and the Caribbean; United Nations. Economic Commission for Latin America and the Caribbean; United Nations. Economic and Social Commission for Asia and the Pacific; United Nations. Economic and Social Commission for Western Asia (2003). Information society : regional dimensions Africa, Europe & North America, Latin America & Caribbean, Asia & Pacific, Western Asia.. World Summit on the Information Society (1st : 2003 : Geneva, Switzerland). Geneva :. © UN.ECA. https://hdl.handle.net/10855/41101"

Framework for a set of e-government core indicators

United Nations Conference on Trade and Development; United Nations. Economic Commission for Africa.; United Nations. Economic Commission for Latin America and the Caribbean; United Nations. Economic and Social Commission for Asia and the Pacific; United Nations. Economic and Social Commission for Western Asia; Statistical Office of the European Union; International Telecommunication Union; Organisation for Economic Co-operation and Development; United Nations Conference on Trade and Development

"United Nations Conference on Trade and Development; United Nations. Economic Commission for Africa.; United Nations. Economic Commission for Latin America and the Caribbean; United Nations. Economic and Social Commission for Asia and the Pacific; United Nations. Economic and Social Commission for Western Asia; Statistical Office of the European Union; International Telecommunication Union; Organisation for Economic Co-operation and Development; United Nations Conference on Trade and Development (2012). Framework for a set of e-government core indicators. Addis Ababa :. © UN. ECA,. https://hdl.handle.net/10855/25669"

Report of mission to Kampala 7 February-13 February 2005

United Nations. Economic and Social Council; United Nations. Economic Commission for Africa. African Centre for Gender and Development; United Nations. Economic and Social Council; United Nations. Economic Commission for Africa. African Centre for Gender and Development; United Nations. Economic Commission for Africa.

"Tadria, Hilda; United Nations. Economic and Social Council; United Nations. Economic Commission for Africa. African Centre for Gender and Development; United Nations. Economic and Social Council; United Nations. Economic Commission for Africa. African Centre for Gender and Development; United Nations. Economic Commission for Africa. (2005). Report of mission to Kampala 7 February-13 February 2005. Addis Ababa:. © UN. ECA,. https://hdl.handle.net/10855/41484"