Impact of trade facilitation mechanisms on export competitiveness in Africa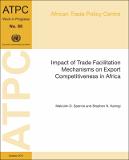 Published
2011-10
Author(s)/Corporate Author (s)
Karingi, Stephen N.;
D. Spence, Malcolm;
African Union Commission;
United Nations. Economic Commission for Africa. African Trade Policy Centre;

Abstract
This report documents the main findings of a survey undertaken by UNECA, AUC and RECs on a continental level, to assess how AGOA eligible countries are benefiting from the preferences conferred to them under AGOA. Among the main findings, an important share of respondents to the survey reported having experienced employment, trade, investment creation thanks to AGOA. There was evidence that AGOA has been beneficial, but its full potential has not been realised. Therefore, in order to tap into these reported benefits the great majority of respondents are of the view that AGOA needs to be revised.
Citation
"Karingi, Stephen N.; D. Spence, Malcolm; African Union Commission; United Nations. Economic Commission for Africa. African Trade Policy Centre (2011-10). Impact of trade facilitation mechanisms on export competitiveness in Africa. ATPC work in progress;; no. 85. no. 85, v, 53 p. :. Addis Ababa :. © UN. ECA,. https://hdl.handle.net/10855/17794"
Serial Title
ATPC work in progress; no. 85
Related items
Showing items related by title, author, creator and subject.