An MDG-sensitive economic policy model with application to Senegal : ECA Policy research report Vol.1 no.9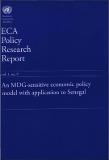 Author(s)/Corporate Author (s)
United Nations. Economic Commission for Africa;

Abstract
This report describes an analytical framework for costing strategies to achieve the Millennium Development Goats (MDGs) in Mrica and analyzes alternative strategies for [he specific case of Senegal. The report addresses three important questions. First, what is the trajectory that the Senegalese economy will follow under current trends and policies and will it be sufficient to achieve the MDGs in 2015 without making appropriate reforms? Second, what is the amount of additional public spending required to achieve the MDGs? Third, what would be the best? financing option? The repoer tries to address these questions for Senegal taking into account ~he major macroeconomic challenges facing the country. For that purpose, it draws on scenarios of growth and MDG trajectories built using the economy-wide Maquette for MDG Simulation (MAMS) model.
Citation
"United Nations. Economic Commission for Africa An MDG-sensitive economic policy model with application to Senegal : ECA Policy research report Vol.1 no.9. ECA Policy Research Report. vol. 1, no. 9, vi, 44 p.:. Addis Ababa :. © UN. ECA,. https://hdl.handle.net/10855/17790"
Serial Title
ECA Policy Research Report
Related items
Showing items related by title, author, creator and subject.
Credit facilities for local authorities

United Nations. Economic and Social Council; United Nations. Economic and Social Council; United Nations. Economic Commission for Africa.

"United Nations. Economic and Social Council; United Nations. Economic and Social Council; United Nations. Economic Commission for Africa. (1966-08). Credit facilities for local authorities. UN. ECA Seminar on Local Government Finance (1966, Sep. 05 - 17: Addis Ababa, Ethiopia). Addis Ababa:. © UN. ECA,. https://hdl.handle.net/10855/27866"