Review of the food and agricultural situation in Africa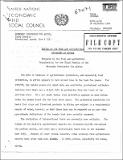 Published
1960-09
Author(s)/Corporate Author (s)
United Nations. Economic and Social Council;
United Nations. Economic Commission for Africa;

Abstract
The rate of increase of agricultural production, and especially food production, in Africa appears to have slowed down in the last few years. For 1959/60, the latest season for which data are available, provisional estimates indicate that there was a slight fall in production from the level of the previous year. On a per caput basis, food production appears to have fallen below the prewar level for the last three years. The production statistics for basic food crops and livestock products in Africa are subject to considerable margin of error, however, so that these data can be regarded as no more than approximate indications of the trends that have probably occurred.
Citation
"United Nations. Economic and Social Council; United Nations. Economic Commission for Africa (1960-09). Review of the food and agricultural situation in Africa. UN. ECA (3rd session : 1960 : Addis Ababa, Ethiopia). Addis Ababa :. © UN.ECA,. http://hdl.handle.net/10855/17187"
Conference
UN. ECA (3rd session : 1960 : Addis Ababa, Ethiopia)
Related items
Showing items related by title, author, creator and subject.
Impact of the economic community of West African States common external tariff and European Union Economic Partnership Agreements

United Nations. Economic Commission for Africa; United Nations. Economic Commission for Africa. Subregional Office West Africa (SRO-WA); United Nations. Economic Commission for Africa. Subregional Office West Africa (SRO-WA); United Nations. Economic Commission for Africa; United Nations. Economic Commission for Africa. Subregional Office West Africa (SRO-WA); United Nations. Economic Commission for Africa. Subregional Office West Africa (SRO-WA)

"United Nations. Economic Commission for Africa; United Nations. Economic Commission for Africa. Subregional Office West Africa (SRO-WA); United Nations. Economic Commission for Africa. Subregional Office West Africa (SRO-WA); United Nations. Economic Commission for Africa; United Nations. Economic Commission for Africa. Subregional Office West Africa (SRO-WA); United Nations. Economic Commission for Africa. Subregional Office West Africa (SRO-WA) (2017). Impact of the economic community of West African States common external tariff and European Union Economic Partnership Agreements. Addis Ababa. © UN.ECA. https://repository.uneca.org/handle/10855/43873"

Information society : regional dimensions Africa, Europe & North America, Latin America & Caribbean, Asia & Pacific, Western Asia.

United Nations. Economic Commission for Africa.; United Nations. Economic Commission for Latin America and the Caribbean; United Nations. Economic Commission for Latin America and the Caribbean; United Nations. Economic and Social Commission for Asia and the Pacific; United Nations. Economic and Social Commission for Western Asia

"United Nations. Economic Commission for Africa.; United Nations. Economic Commission for Latin America and the Caribbean; United Nations. Economic Commission for Latin America and the Caribbean; United Nations. Economic and Social Commission for Asia and the Pacific; United Nations. Economic and Social Commission for Western Asia (2003). Information society : regional dimensions Africa, Europe & North America, Latin America & Caribbean, Asia & Pacific, Western Asia.. World Summit on the Information Society (1st : 2003 : Geneva, Switzerland). Geneva :. © UN.ECA. http://hdl.handle.net/10855/41101"

Rapport sur le développement durable en Afrique 2018: vers un continent transforme et résilient

Nations Unies. Commission Economique pour l'Afrique. Centre africain pour le genre et le développement; Commission de l'Union Africaine; Nations Unies Programme de Développement; Banque africaine de développement

"Nations Unies. Commission Economique pour l'Afrique. Centre africain pour le genre et le développement; Commission de l'Union Africaine; Nations Unies Programme de Développement; Banque africaine de développement (2018-11). Rapport sur le développement durable en Afrique 2018: vers un continent transforme et résilient. Addis Abeba. © NU. CEA. "