African e-markets : information and economic development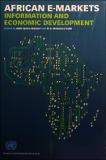 Published
2007
Author(s)/Corporate Author (s)
Opoku-Mensah, Aida;
Salih, Mohamed Abdel Rahim M. (Mohamed Abdel Rahim Mohamed);
United Nations.Economic Commission for Africa.;

Abstract
The presentations dealt with the significance of e-economics and e-commerce for the continent's development. Discussions revealed a consensus on the fact that ICT and e-commerce have become major input factors for economic growth and poverty alleviation. The need for integrating ICTS into development thinking, including the implementation of the Millennium Development Goals (MDGS), has been highlighted. This is due to the integrative nature of ICTS and their ability to create linkages and synergies between all sectors of the economy. A major proposal put forward in respect to African e-commerce included the need to refrain from imposing ICT solutions as a panacea for solving all problems emanating from underdevelopment, and instead understand and adapt them to African commercial needs, including design technologies that are appropriate to the African context. Africa ICT infrastructure development for e-commerce is evolving rapidly in areas such as e-marketing, e-commodities, e-government, e-development, e-health, e-banking, e-learning, e-library, e-insurance etc.
Citation
"Opoku-Mensah, Aida; Salih, Mohamed Abdel Rahim M. (Mohamed Abdel Rahim Mohamed); United Nations.Economic Commission for Africa. (2007). African e-markets : information and economic development. Committee on Development Information series ;. 2., 232 p.. Addis Ababa:. © UN. ECA,. http://hdl.handle.net/10855/16778"
Serial Title
Committee on Development Information series ;
Collections
Related items
Showing items related by title, author, creator and subject.