A green economy in the context of sustainable development : what are the implications for Africa ?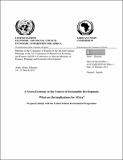 Published
2011-02
Author(s)/Corporate Author (s)
United Nations. Economic and Social Council;
United Nations. Economic Commission for Africa;
African Union Commission;

Abstract
The green economy is as much about developing an economic system that builds and enhances the earth's natural capital as it is about maximizing economic benefits and minimizing social inequalities. Ultimately, the green economy is an outcome-oriented concept that aims at improving human well-being without undermining the resource-base that current and future generations depend on for their livelihoods. It serves to link economic performance with efficient resource utilization and a just distribution of the benefits within and across generations.
Citation
"United Nations. Economic and Social Council; United Nations. Economic Commission for Africa; African Union Commission (2011-02). A green economy in the context of sustainable development : what are the implications for Africa ?. UN. ECA Committee of Experts of the Joint Annual Meetings of the AU Conference of Ministers of Economy and Finance and ECA Conference of African Ministers of Finance, Planning and Economic Development Meeting (4th: 2011, Mar. 24-27: Addis Ababa, Ethiopia); UN. ECA Committee of Experts Meeting (30th : 2011, Mar., 24 - 27 : Addis Ababa, Ethiopia); AU Committee of Experts Meeting (6th : 2011, Mar. 24-27 : Addis Ababa, Ethiopia). Addis Ababa :. © UN. ECA,. https://hdl.handle.net/10855/16675"
Conference
UN. ECA Committee of Experts of the Joint Annual Meetings of the AU Conference of Ministers of Economy and Finance and ECA Conference of African Ministers of Finance, Planning and Economic Development Meeting (4th: 2011, Mar. 24-27: Addis Ababa, Ethiopia)
UN. ECA Committee of Experts Meeting (30th : 2011, Mar., 24 - 27 : Addis Ababa, Ethiopia)
AU Committee of Experts Meeting (6th : 2011, Mar. 24-27 : Addis Ababa, Ethiopia)