Report of meeting on youth employment and national development in Africa : Niamey, Niger, 21-30 May 1968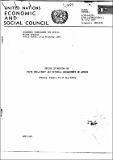 Published
1968-11
Author(s)/Corporate Author (s)
United Nations. Economic and Social Council;
United Nations. Economic Commission for Africa;

Abstract
With increasing concern African nations are turning to the critical problem of youth employment - of young men and women, in "both rural and urban areas. Governments (as well as voluntary organizations and public-spirited individuals) have come to recognize that, in large measure, success in achieving sustained and meaningful long-term development depends on the national ability: (1) to promote welfare measures that will maintain or .- improve the physical and mental well-being of youth - eefore and after their joining the national work force; (2) to provide the facilities for their necessary basic , education and skill training; (3) to create an economic environment in which productive and rewarding world opportunities are available for youth.
Citation
"United Nations. Economic and Social Council; United Nations. Economic Commission for Africa (1968-11). Report of meeting on youth employment and national development in Africa : Niamey, Niger, 21-30 May 1968. UN. ECA (9th session : 1969, Feb. 3 - 14: Addis Ababa, Ethiopia).. Addis Ababa :. © UN. ECA,. https://hdl.handle.net/10855/16513"
Conference
UN. ECA (9th session : 1969, Feb. 3 - 14: Addis Ababa, Ethiopia).
Related items
Showing items related by title, author, creator and subject.
Note conceptuelle: Comité intergouvernemental de hauts fonctionnaires et d'experts pour l'Afrique du Nord

Nations Unies. Commission Economique pour l'Afrique; Nations Unies. Commission économique pour l'Afrique. Bureau Sous-Régional pour l'Afrique de l'Ouest; Nations Unies. Commission économique pour l'Afrique. Bureau Sous-Régional pour l'Afrique du Nord

"Nations Unies. Commission Economique pour l'Afrique; Nations Unies. Commission économique pour l'Afrique. Bureau Sous-Régional pour l'Afrique de l'Ouest; Nations Unies. Commission économique pour l'Afrique. Bureau Sous-Régional pour l'Afrique du Nord (2022-08). Note conceptuelle: Comité intergouvernemental de hauts fonctionnaires et d'experts pour l'Afrique du Nord. NU. CEA Réunion du Comité intergouvernemental de hauts fonctionnaires et d'experts pour l'Afrique du Nord (1ère: 2022, 1-3 nov.: Marrakech, Maroc). Addis Abeba:. © NU. CEA,. https://hdl.handle.net/10855/49120"

Information society : regional dimensions Africa, Europe & North America, Latin America & Caribbean, Asia & Pacific, Western Asia.

United Nations. Economic Commission for Africa.; United Nations. Economic Commission for Latin America and the Caribbean; United Nations. Economic Commission for Latin America and the Caribbean; United Nations. Economic and Social Commission for Asia and the Pacific; United Nations. Economic and Social Commission for Western Asia

"United Nations. Economic Commission for Africa.; United Nations. Economic Commission for Latin America and the Caribbean; United Nations. Economic Commission for Latin America and the Caribbean; United Nations. Economic and Social Commission for Asia and the Pacific; United Nations. Economic and Social Commission for Western Asia (2003). Information society : regional dimensions Africa, Europe & North America, Latin America & Caribbean, Asia & Pacific, Western Asia.. World Summit on the Information Society (1st : 2003 : Geneva, Switzerland). Geneva :. © UN.ECA. https://hdl.handle.net/10855/41101"

Enregistrement des faits d'état civil en situation de conflit et d'urgence

Nations Unies. Commission Economique pour l'Afrique; Organisation mondiale de la Santé; Commission de l'Union Africaine; Fonds international de secours à l'enfance; Haut-Commissariat des Nations Unies aux droits de l'homme; Fonds des Nations Unies pour la population; Banque africaine de développement; Nations Unies. Commission Economique pour l'Afrique; Organisation mondiale de la Santé; Commission de l'Union Africaine; Fonds international de secours à l'enfance; Haut-Commissariat des Nations Unies aux droits de l'homme; Fonds des Nations Unies pour la population; Banque africaine de développement

"Nations Unies. Commission Economique pour l'Afrique; Organisation mondiale de la Santé; Commission de l'Union Africaine; Fonds international de secours à l'enfance; Haut-Commissariat des Nations Unies aux droits de l'homme; Fonds des Nations Unies pour la population; Banque africaine de développement; Nations Unies. Commission Economique pour l'Afrique; Organisation mondiale de la Santé; Commission de l'Union Africaine; Fonds international de secours à l'enfance; Haut-Commissariat des Nations Unies aux droits de l'homme; Fonds des Nations Unies pour la population; Banque africaine de développement (2017-12). Enregistrement des faits d'état civil en situation de conflit et d'urgence. NU. CEA Conférence des ministres africains chargés de l'enregistrement des faits d'état civil (4ème: 2017, 4-8 déc.: Nouakchott, Mauritanie); NU. CEA Réunion de groupe d'experts (2017, 4-8 déc.: Nouakchott, Mauritanie). Addis Abeba. © NU. CEA. https://hdl.handle.net/10855/24046"