Matters arising from the twelfth session of the statistical commission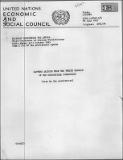 Published
1963-07
Author(s)/Corporate Author (s)
United Nations. Economic and Social Council;
United Nations. Economic Commission for Africa;

Abstract
The twelfth session of the United Nations Statistical Commission was held at United Nations headquarters from 24 April to 10 May 1962. The substantive part of the report (E/3663) is divided into the following sections: review of international statistics (Par. 8-15), training and assistance to developing countries (par. 16-18), industrial statistics (par. 19-32),statistics of the financial accounts of enterprise (par. 33-39), integrated accounts on income and financial statistics (par 40-43) , national accounts (par. 44-61), methodology and evaluation of continuous population registers (par. 62-66), demographic statistics (par. 67-80), statistics for social programmes (par. 81-95), ad hoc working group of specialists in sample survey methods (par. 96-102), classification of governments accounts (par. 103-109), balance of payments statistics (par. 110-111), external trade statistics (par. 112-123), data processing by electronic computer (par. 124-129), tourist statistics (par. 130-132). While the various deliberations of the commission are of interest to the conference of African statisticians, this document is designed to highlight those aspects of the discussions which are of special relevance to the conference.
Citation
"United Nations. Economic and Social Council; United Nations. Economic Commission for Africa (1963-07). Matters arising from the twelfth session of the statistical commission. UN. ECA Conference of African Statisticians (3rd : 1963, Oct. 02 - 11 : Addis Ababa, Ethiopia).. Addis Ababa :. © UN. ECA,. https://hdl.handle.net/10855/16193"
Conference
UN. ECA Conference of African Statisticians (3rd : 1963, Oct. 02 - 11 : Addis Ababa, Ethiopia).
Related items
Showing items related by title, author, creator and subject.