The contribution of the UN system to the implementation of the UN Programme of Action for African Economic Recovery and Development (1986-1990) UN-PAAERD : a preliminary assessment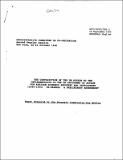 Published
1990-09
Author(s)/Corporate Author (s)
United Nations. Economic and Social Council;
United Nations. Economic Commission for Africa;

Abstract
The purpose of this Note is to review major initiatives and actions taken by the UN system within the framework of UN-PAAERD and attempt to provide an overall assessment of the extent and relevance of the efforts made in this direction. The Note draws on the replies to a questionnaire on the subject received from organizations of the UN system and reports submitted in response to requests made by the UN Inter-Agency Task Force on the Implementation of UN-PAAERD at the Regional Level.
Citation
"United Nations. Economic and Social Council; United Nations. Economic Commission for Africa (1990-09). The contribution of the UN system to the implementation of the UN Programme of Action for African Economic Recovery and Development (1986-1990) UN-PAAERD : a preliminary assessment. UN. ECA Regular session (2nd : 1990 Oct. 22- 23 New York). Addis Ababa :. © UN. ECA,. https://hdl.handle.net/10855/15892"
Conference
UN. ECA Regular session (2nd : 1990 Oct. 22- 23 New York)
Related items
Showing items related by title, author, creator and subject.
Framework for a set of e-government core indicators

United Nations Conference on Trade and Development; United Nations. Economic Commission for Africa.; United Nations. Economic Commission for Latin America and the Caribbean; United Nations. Economic and Social Commission for Asia and the Pacific; United Nations. Economic and Social Commission for Western Asia; Statistical Office of the European Union; International Telecommunication Union; Organisation for Economic Co-operation and Development; United Nations Conference on Trade and Development

"United Nations Conference on Trade and Development; United Nations. Economic Commission for Africa.; United Nations. Economic Commission for Latin America and the Caribbean; United Nations. Economic and Social Commission for Asia and the Pacific; United Nations. Economic and Social Commission for Western Asia; Statistical Office of the European Union; International Telecommunication Union; Organisation for Economic Co-operation and Development; United Nations Conference on Trade and Development (2012). Framework for a set of e-government core indicators. Addis Ababa :. © UN. ECA,. https://hdl.handle.net/10855/25669"

Aperçu de l'évolution récente de la situation économique et sociale en Afrique

United Nations. Economic Commission for Africa. African Institute for Economic Development and Planning(IDEP); Nations Unies. Commission Economique pour l'Afrique; Nations Unies. Conseil Economique et Social; United Nations. Economic Commission for Africa. African Institute for Economic Development and Planning(IDEP); Nations Unies. Commission Economique pour l'Afrique; Nations Unies. Conseil Economique et Social

"United Nations. Economic Commission for Africa. African Institute for Economic Development and Planning(IDEP); Nations Unies. Commission Economique pour l'Afrique; Nations Unies. Conseil Economique et Social; United Nations. Economic Commission for Africa. African Institute for Economic Development and Planning(IDEP); Nations Unies. Commission Economique pour l'Afrique; Nations Unies. Conseil Economique et Social (2018-05). Aperçu de l'évolution récente de la situation économique et sociale en Afrique. NU. CEA Comité d'experts de la Conférence des ministres africains des finances, de la planification et du développement économique (37ème: 11-12 mai, 2018: Addis Abeba, Ethiopie). Addis Abeba:. © NU. CEA,. https://hdl.handle.net/10855/24450"