Enhancing dialogue, co-operation, and interface between the government and popular development organizations in Namibia : workshop report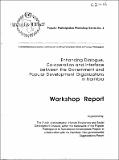 Published
1993-08
Author(s)/Corporate Author (s)
United Nations. Economic Commission for Africa. Public Administration, Human Resources, and Social Development Division;

Abstract
A pre-workshop high-level meeting was held between the National Planning Commission of the Government of Namibia, the United Nations Economic Commission for Africa and the United Nations Development Program office on August 11, 1993 at the National Planning Commission. The purpose of the high-level meeting was to deliberate on ways to enhance the interface between NPC, the Namibian Government's focal point and the NGO community, and to solicit the participation of the government and its position on the NGO-Government Consultative Meeting. The objectives of the workshop were to collectively reflect on the existing relationship between the government and NGOs in Namibia; examine the different ways in which NGOs interact with government; elaborate on ways to enhance dialogue and cooperation between policy makers and implementers, on the one hand, and NGOs, on the other; identify measures needed to create a climate 'of trust and openness and increased opportunities for interaction and dialogue between the Government of Namibia and NGOs.
Citation
"United Nations. Economic Commission for Africa. Public Administration, Human Resources, and Social Development Division (1993-08). Enhancing dialogue, co-operation, and interface between the government and popular development organizations in Namibia : workshop report. Popular participation workshop series;. No. 3, 38 p.. Addis Ababa. © UN. ECA. https://hdl.handle.net/10855/15532"
Serial Title
Popular participation workshop series;
Related items
Showing items related by title, author, creator and subject.