Multilateral agricultural liberalization : what's in it for Afica?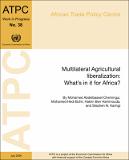 Published
2006-07
Author(s)/Corporate Author (s)
Chemingui, Mohamed Abdelbasset;
Hammouda, Hakim Ben;
Karingi, Stephen N.;
Bchir, Mohammed Hedi;
United Nations. Economic Commission for Africa;

Abstract
This paper examines the implications for African economies of the possible outcomes from the ongoing agriculture negotiations in the Doha Round. The paper defines scenarios that capture key elements of the modalities negotiations and undertakes simulations using a global dynamic general equilibrium model to examine the impact of multilateral agricultural trade reforms on African economies. The scenarios vary in their level of ambition in the market access pillar through both the level of tariff cuts in the differenttiers and the level of sensitive sectors defined both for developed and developing economies. Results show that ambitious coefficients in the market access pillar remain the best outcome for Africa. Even what might seem to be an insignificant definition of sensitive products for developed countries erodes potential benefits from deep tariff cuts for African countries. This suggests that utilizing sensitive products tariff lines by developed countries not only dampens the expected positive outcomes for agriculture negotiations in favour of Africa but could also actually wipe out such gains. The results further confirm findings of other studies showing that tariff cuts for agricultural goods yield higher gains than elimination of subsidies, and this applies mainly to net food importing developing countries. Thus, reduction of subsidies should go hand-in-hand with agricultural tariff reductions in order to ensure win-win outcomes.
Citation
"Chemingui, Mohamed Abdelbasset; Hammouda, Hakim Ben; Karingi, Stephen N.; Bchir, Mohammed Hedi; United Nations. Economic Commission for Africa (2006-07). Multilateral agricultural liberalization : what's in it for Afica?. Addis Ababa :. © UN. ECA,. https://hdl.handle.net/10855/15449"
Serial Title
ATPC work in progress No.38