Interim economic partnership agreements point to the classic regional trade agreements after all : should African countries really be worried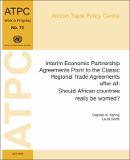 Published
2009-04
Author(s)/Corporate Author (s)
Karingi, Stephen N.;
Deotti, Laura.;
United Nations. Economic Commission for Africa. African Trade Policy Centre;

Abstract
In a departure from some previous studies on the EPAs negotiations that have focused on economic analysis; this paper starts from the premise that for the EU, the EPAs are international trade policy tools in the same line as its previous regional trade agreements (RTAs). In order to support the premise that the EPAs are classical RTAs after all, the paper provides results of a legal audit of the interim EPA agreements that were signed in the different African regions, despite there being in existence a common African position on the minimum elements of the agreements. In particular, the paper zeroes in on the African common position with respect to some of the issues such as the regional integration agenda, and argues that in a globalizing world, EU national interests could have overridden the African Union integration agenda leading to the fragmentation of the previously defined EPA groupings.
Citation
"Karingi, Stephen N.; Deotti, Laura.; United Nations. Economic Commission for Africa. African Trade Policy Centre (2009-04). Interim economic partnership agreements point to the classic regional trade agreements after all : should African countries really be worried. ATPC work in progress;; no. 75. no. 75, v, 53 p. :. Addis Ababa :. © UN. ECA,. https://hdl.handle.net/10855/15355"
Serial Title
ATPC work in progress; no. 75
Related items
Showing items related by title, author, creator and subject.