Rapport annuel (1 Fevrier 1968 - 14 Fevrier 1969): Volume II: Cinquième partie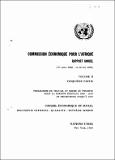 Published
1969
Author(s)/Corporate Author (s)
Nations Unies. Commission Economique pour l'Afrique;

Abstract
Conformément aux décisions et aux recommandations du Comité du programme et de la coordinateur et du Comité ad hoc d'experts chargés d' examiner les finances de l'organisation des Nations Unies et des institutions spécialisées, le présent programme de travail porte sur la période biennale 1969-1970 et comprend des projections jusqu'à 1973. A sa neuvième session, la Commission sera invitée à approuver la recommandation suivant laquelle un programme de travail serait, à l'avenir établi tous les deux ans pour une période de six ans; les propositions relatives aux deux premières années seraient précises et, pour les deux années suivantes elles seraient moins nettes et mains arrêtées et pour la cinquième et la sixième années elles auraient le caractère de projections. Cette formule s'impose pour cadrer avec les procédures envisagées par le Siège en matière de budget, de programmation et de rapports.
Citation
"Nations Unies. Commission Economique pour l'Afrique (1969). Rapport annuel (1 Fevrier 1968 - 14 Fevrier 1969): Volume II: Cinquième partie. Addis Abeba. © NU. CEA. https://hdl.handle.net/10855/15217"
Serial Title
Supplement (United Nations. Economic and Social Council) Official records (United Nations. Economic and Social Council).