ECA training programme and training programme notice = Programme de formation de la CEA et notice sur la formation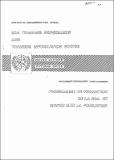 Published
1994-12
Author(s)/Corporate Author (s)
United Nations. Economic Commission for Africa. Public Administration, Human Resources, and Social Development Division;

Abstract
This publication contains information on training programs and areas such as industry, human settlements, natural resources, engineering, management, education, economics, health and more. This Training Bulletin, provides advance information on ECA's planned training courses, workshops and seminars to enable interested training institutes, the various services of government and, where applicable, interested parastatals and private establishments to better plan their participation in the various events organized in conjunction with other activities of the Secretariat. It also gives detailed information on current training opportunities offered to African nationals.
Citation
"United Nations. Economic Commission for Africa. Public Administration, Human Resources, and Social Development Division (1994-12). ECA training programme and training programme notice = Programme de formation de la CEA et notice sur la formation. Bulletin on ECA training programme; Training Information notice. Part 1: No. 38; Part 2: No. 83, 165 p.. Addis Ababa :. © UN. ECA,. https://hdl.handle.net/10855/15095"
Serial Title
Bulletin on ECA training programme Training Information notice
Related items
Showing items related by title, author, creator and subject.