Growth, gender and equity - NEPAD and the renaissance : myth or reality?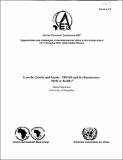 Published
2007-11
Author(s)/Corporate Author (s)
Bunwaree, Sheila;
United Nations. Economic Commission for Africa;
African Development Bank Group;

Abstract
A scan of countries across the globe shows us that the vast majority of the poorest countries is located in the Southern hemisphere and is disproportionately present in the African continent. Despite years of struggle to get out of the malaise of underdevelopment, the continent is still trapped in poverty. Conditions that prevail continue to dehumanize and oppress large segments of populations particularly women on the continent. Decolonization in the narrow political sense may well have taken place but economic and cultural colonization, very often in disguised and subtle forms, still persist in these globalizing times. The new face of globalization with India and China as the emerging giants and continuously searching for cheap sites of production and sources of supply of raw materials on the African continent should not be seen as mere South cooperation but rather what it means for people's livelihoods on the ground.
Citation
"Bunwaree, Sheila; United Nations. Economic Commission for Africa; African Development Bank Group (2007-11). Growth, gender and equity - NEPAD and the renaissance : myth or reality?. African Economic Conference 2007: Opportunities and Challenges of Development for Africa in the Global Arena (2007, nov. 15-17 : Addis Ababa, Ethiopia). Addis Ababa :. © UN. ECA,. https://hdl.handle.net/10855/15007"
Conference
African Economic Conference 2007: Opportunities and Challenges of Development for Africa in the Global Arena (2007, nov. 15-17 : Addis Ababa, Ethiopia)