Theme : "participation and partnerships for improving development and governance in Africa"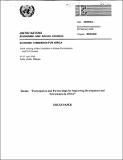 Published
2005-02
Author(s)/Corporate Author (s)
United Nations. Economic and Social Council;
United Nations. Economic Commission for Africa;

Abstract
The third meeting of the Committee on Human Development and Civil Society (CHDCS) is organized under the theme "Participation and Partnerships for Improving Development and Governance in Africa". The aim is to facilitate dialogue among policy makers, experts and practitioners on the issues and factors related to the strengthening of participation and partnerships in the development and governance process. The twin principle of participation and partnership offers opportunity to scale up the response to the Millennium Development Goals and for meeting the challenges of the African Peer Review Mechanism. The meeting will examine these implications particularly as they relate to addressing the challenges of a responsive budgeting to address basic planning issues and mobilizing capacity to meet water and sanitation needs. It will also consider practical steps that must be taken to reinforce a credible peer review mechanism based on participation and partnerships.
Citation
"United Nations. Economic and Social Council; United Nations. Economic Commission for Africa (2005-02). Theme : "participation and partnerships for improving development and governance in Africa". UN. ECA Committee on Human Development and Civil Society Meeting (3rd : 2005, April 25 - 27 : Addis Ababa, Ethiopia). Addis Ababa :. © UN. ECA,. https://hdl.handle.net/10855/14469"
Conference
UN. ECA Committee on Human Development and Civil Society Meeting (3rd : 2005, April 25 - 27 : Addis Ababa, Ethiopia)