Conference of heads of African Universities and University Colleges : held at Khartoum, 20-22 december 1960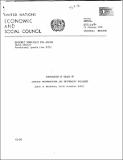 Published
1961-01
Author(s)/Corporate Author (s)
United Nations. Economic and Social Council;
United Nations. Economic Commission for Africa;

Abstract
This Conference was called in accordance with ECA resolution 17(II). Under that resolution the Executive Secretary was requested to take the proper steps at the earliest possible opportunity to consult with colleges, universities, research institutions and other appropriate organizations in Africa regarding arrangements for the training of African staff in the field of economic development". The resolution referred specifically to the need in Africa for an increasing number of economists, statisticians, public administrators, managers of industries and, other professional, technical and skilled personnel at all levels. It further made reference to the facilities and resources, available under the United Nations Technical Assistance, Programme and the Special Fun for the establishment, expansion and of training institutions.
Citation
"United Nations. Economic and Social Council; United Nations. Economic Commission for Africa (1961-01). Conference of heads of African Universities and University Colleges : held at Khartoum, 20-22 december 1960. NU. CEA (3ème session). Addis Ababa :. © UN. ECA,. http://hdl.handle.net/10855/14232"
Conference
NU. CEA (3ème session)
Related items
Showing items related by title, author, creator and subject.
Impact of the economic community of West African States common external tariff and European Union Economic Partnership Agreements

United Nations. Economic Commission for Africa; United Nations. Economic Commission for Africa. Subregional Office West Africa (SRO-WA); United Nations. Economic Commission for Africa. Subregional Office West Africa (SRO-WA); United Nations. Economic Commission for Africa; United Nations. Economic Commission for Africa. Subregional Office West Africa (SRO-WA); United Nations. Economic Commission for Africa. Subregional Office West Africa (SRO-WA)

"United Nations. Economic Commission for Africa; United Nations. Economic Commission for Africa. Subregional Office West Africa (SRO-WA); United Nations. Economic Commission for Africa. Subregional Office West Africa (SRO-WA); United Nations. Economic Commission for Africa; United Nations. Economic Commission for Africa. Subregional Office West Africa (SRO-WA); United Nations. Economic Commission for Africa. Subregional Office West Africa (SRO-WA) (2017). Impact of the economic community of West African States common external tariff and European Union Economic Partnership Agreements. Addis Ababa. © UN.ECA. https://repository.uneca.org/handle/10855/43873"

Information society : regional dimensions Africa, Europe & North America, Latin America & Caribbean, Asia & Pacific, Western Asia.

United Nations. Economic Commission for Africa.; United Nations. Economic Commission for Latin America and the Caribbean; United Nations. Economic Commission for Latin America and the Caribbean; United Nations. Economic and Social Commission for Asia and the Pacific; United Nations. Economic and Social Commission for Western Asia

"United Nations. Economic Commission for Africa.; United Nations. Economic Commission for Latin America and the Caribbean; United Nations. Economic Commission for Latin America and the Caribbean; United Nations. Economic and Social Commission for Asia and the Pacific; United Nations. Economic and Social Commission for Western Asia (2003). Information society : regional dimensions Africa, Europe & North America, Latin America & Caribbean, Asia & Pacific, Western Asia.. World Summit on the Information Society (1st : 2003 : Geneva, Switzerland). Geneva :. © UN.ECA. http://hdl.handle.net/10855/41101"

Rapport sur le développement durable en Afrique 2018: vers un continent transforme et résilient

Nations Unies. Commission Economique pour l'Afrique. Centre africain pour le genre et le développement; Commission de l'Union Africaine; Nations Unies Programme de Développement; Banque africaine de développement

"Nations Unies. Commission Economique pour l'Afrique. Centre africain pour le genre et le développement; Commission de l'Union Africaine; Nations Unies Programme de Développement; Banque africaine de développement (2018-11). Rapport sur le développement durable en Afrique 2018: vers un continent transforme et résilient. Addis Abeba. © NU. CEA. "