Adolescents in the family and the development process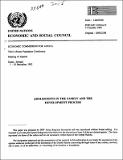 Published
1992-10
Author(s)/Corporate Author (s)
United Nations. Economic and Social Council;
United Nations. Economic Commission for Africa;

Abstract
An argument that has been advanced in support of higher population growth is that it is desirable in order to stimulate economic development. It is further argued that large populations are essential in order to provide needed consumer demand, to generate favorable economies of scale in production, lower production costs, and provide a sufficient and low-cost labour supply necessary to achieve higher output levels. A large and youthful population has also often been seen as providing military and political power. The economics of population could also be viewed from the cost-benefit perspective. Most people are both consumers and producers in their life times. They bring about costs to the national and micro (household) economies, but also contribute to the benefits of these economies. The benefits and costs can be envisioned from the phases of the family life cycle. At the infancy and childhood stages, the individual is mainly a consumer of health, educational, food, clothing, shelter and other services and thus an insignificant producer. During the second stage, working life, the individual's productivity is greater than this wages, and the profit thus accrued goes to the employer. During this stage, the individual also marries and has children. He pays taxes. The third phase is retirement, during which the productivity of the individual gradually decreases and ultimately becomes insignificant.
Citation
"United Nations. Economic and Social Council; United Nations. Economic Commission for Africa (1992-10). Adolescents in the family and the development process. UN. ECA African Population Conference : Meeting of Experts ( 3rd : 1992, Dec. 07 - 10 : Dakar, Senegal). Addis Ababa :. © UN. ECA,. https://hdl.handle.net/10855/14171"
Conference
UN. ECA African Population Conference : Meeting of Experts ( 3rd : 1992, Dec. 07 - 10 : Dakar, Senegal)
Related items
Showing items related by title, author, creator and subject.
Third African population conference: conference papers

United Nations Population Fund; Organization of African Unity; African Development Bank; Government of the Republic of Senegal; United Nations. Economic Commission for Africa African Center for Statistics

"United Nations Population Fund; Organization of African Unity; African Development Bank; Government of the Republic of Senegal; United Nations. Economic Commission for Africa African Center for Statistics (1994). Third African population conference: conference papers. Conference Papers :. vol.3, iii, 230 p.. UN. ECA African Population Conference, Meeting of Experts (3rd : 1992, Dec. 11- 12 : Dakar, Senegal). Addis Ababa :. © UN.E CA,. https://hdl.handle.net/10855/2063"

Population dynamics in Africa

United Nations. Economic Commission for Africa.; United Nations. Economic and Social Council

"United Nations. Economic Commission for Africa.; United Nations. Economic and Social Council (1986-02). Population dynamics in Africa. UN. ECA Joint Conference of African Planners, Statisticians and Demographers (4th session : 1986, Mar. 03 - 12 : Addis Ababa, Ethiopia). Addis Ababa :. © UN. ECA,. https://hdl.handle.net/10855/21239"

L'élaboration de l'utilisation généralisées par sexe: sommaire du rapport d'évaluation préliminaire

Nations Unies. Commission Economique pour l'Afrique; Nations Unies. Commission Economique pour l'Afrique

"Goma, Lemba Solange; Nations Unies. Commission Economique pour l'Afrique; Nations Unies. Commission Economique pour l'Afrique (1999-11). L'élaboration de l'utilisation généralisées par sexe: sommaire du rapport d'évaluation préliminaire. NU.CEA Conférence régionale Africaine sur les femmes: revue à mi-parcours de la mise en oeuvre des plateformes d'action de Dakar et de Beijing (6ème: 1999, novembre 22 - 26 Addis Abeba, Ethiopie). [Addis Abeba]:. © NU. CEA,. https://hdl.handle.net/10855/1454"