Progress report on ECA co-ordinated bilateral scholarship and fellowship programme, 1973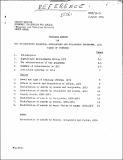 Published
1974-10
Author(s)/Corporate Author (s)
;
United Nations. Economic Commission for Africa;

Abstract
In furtherance of Commission resolution 173(VIII) relating to development constraints resulting from the scarcity of scientific technical; professional and managerial skills in the continent; resolution 125(VII), which requested the secretariat to serve as coordinator of land clearing house for information on training facilities inside and outside Africa offered by governmental and non-governmental agencies, the United Nations and other organizations, as well as by non-African donor countries; and resolution 218(X), which urged that, among other measures, action be taken during the 1970s to eliminate waste in the utilization of already available educational and training resources, the secretariat of the Economic Commission in identifying relevant training opportunities and in securing fellowship for the training of personnel from the public and private sectors in priority fields of economic development.
Citation
"United Nations. Economic Commission for Africa (1974-10). Progress report on ECA co-ordinated bilateral scholarship and fellowship programme, 1973. Addis Ababa :. © UN. ECA,. https://hdl.handle.net/10855/13940"
Conference
Related items
Showing items related by title, author, creator and subject.